High Success Guided Maine Bear Hunts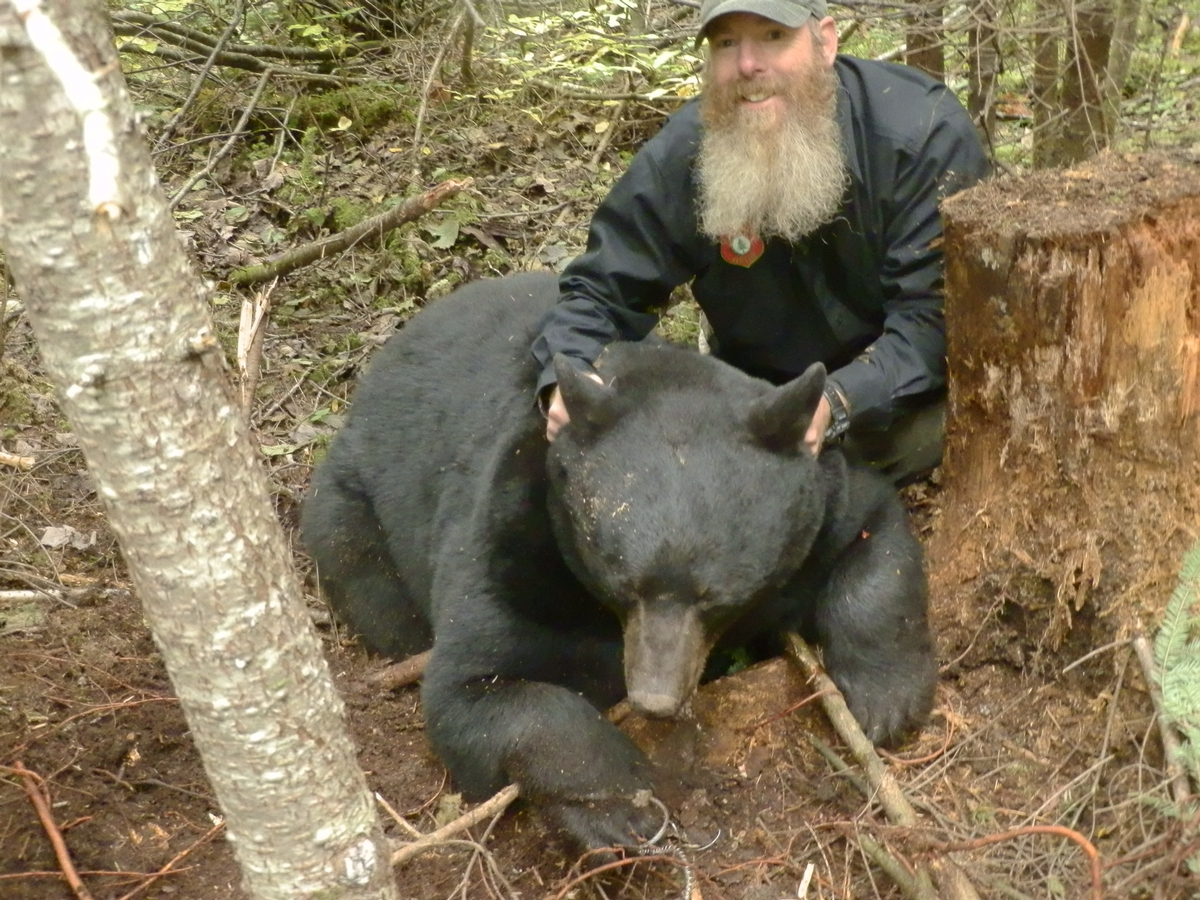 World Class Guided Maine Black Bear Hunts
Maine trophy bear hunting success begins when you choose the location of your hunt. And Northern Maine has the largest black bear population in North America and is growing every year. Aroostook County is known for its endless miles of primeval forest and shadowy bogs which lure hunters from all over the world in their quest for that all time trophy bear! Hunting success continues when you choose your Outfitter. Homestead Lodge wants you to go home with the bear trophy of your dreams and we have the knowledge, skill, and experience to make it happen. We do not just open a camp for the Maine bear hunting season we live and work here year round. We are legally allowed to bait for 30 days prior to the season opening and we bait all 30 days.

Maine trophy bear hunters using bow, rifle, slug gun, muzzle loaders or hand guns have equal opportunity to harvest the Trophy Black Bear of a lifetime due largely to setting each site specifically for the individual hunter and to our continuing maintenance efforts. Landowner Regulations require separation by township and road system of commercial Outfitters and ½ mile between sites. Homestead Lodge has a MINIMUM of 1 mile between sites (although most are 1.5 to 2 miles apart) and we lease enough ground that we can provide not only a new site for each hunter each week, but a whole new area each week for a whole new opening week experience each week!
Maine Bear Hunting Season
Whether you are hunting bears with a bow or rifle hunts, the season generally starts the last week of August into September.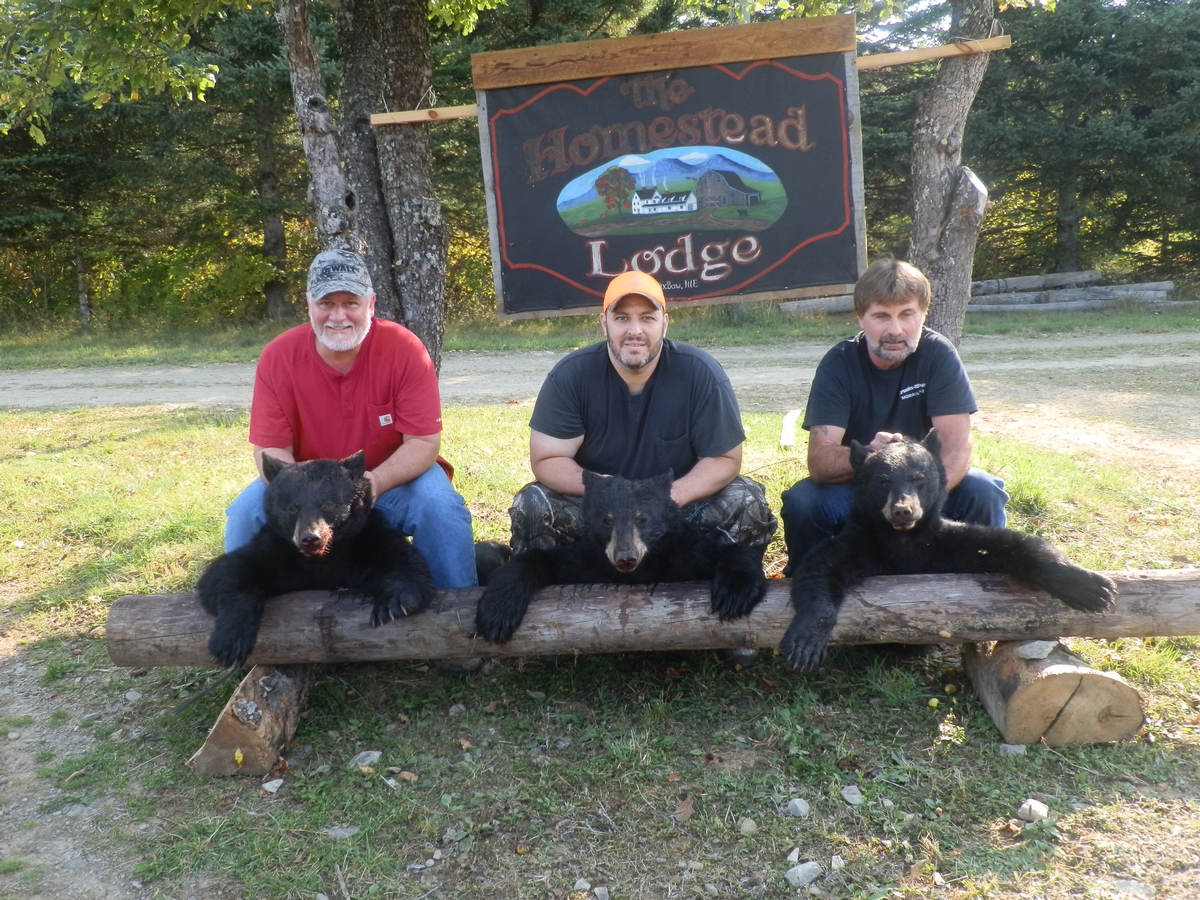 A Tradition of Maine Bear Hunting Excellence
Homestead Lodge encourages the continuation of our hunting heritage with both ladder and ground blinds. We will go the extra to ensure that their stay is a wholesome experience and their Maine black bear hunt is successful.
Information Regarding Your Fully Guided Maine Bear Hunt:
$1950 includes meals, lodging, guiding and retrieval (quarter the bear for your trip home)
All hunts are seven nights lodging and six days hunting
Check In time is after 3:00pm on Sunday
A 50% deposit is required on all hunts. No deposits refunded
Personal Checks accepted for reservation deposits only
Final payment upon arrival with cash, bank check, money order, or travelers checks
Taxidermy and butchering are available for an additional fee
*When you book a bear hunt with us the confirmation of your deposit will be a Homestead Lodge Client Questionnaire. This is for information to set up your individual bait site, as well as all pertinent medical information to ensure you have a safe stay with us, and personal preferences needed to enjoy your time with us as much as possible.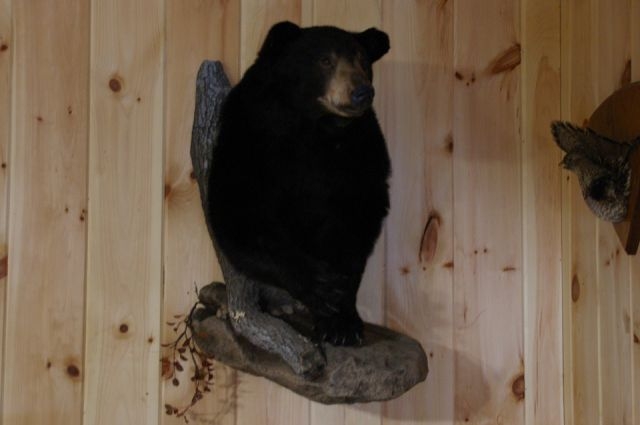 Why Hire a Bear Hunting Guide in Maine
With over 35,000 black bears roaming the woods in Maine, there is plenty of opportunity for hunters. Many hunters find success each year but an average of 65% of successful hunters in the state hire a registered guide. The woods of Maine are vast and hiring a guide will increase your bear hunting success and enhance your hunting experience.
Looking to Hire a Maine Hunting Guide? Make sure to ask:
Can the guide give references from past clients?
What kind of hunting or trapping experience can they provide?
Do they loan gear or equipment?
Do they provide meals and lodging?
Do they offer meat cutting or can they recommend a meat cutter?
Do you offer semi-guided hunts?
Reasons to Bear Hunt in Maine
Looking for more reasons to book a guide bear hunt in Maine?
Bear hunting helps control the population. Bears do not have any natural predators. Hunting is a natural way to control the bear population humanly.
Bears are tasty! Bear meat is lean and health and it taste great. Get outdoors and harvest your own healthy meat for your family.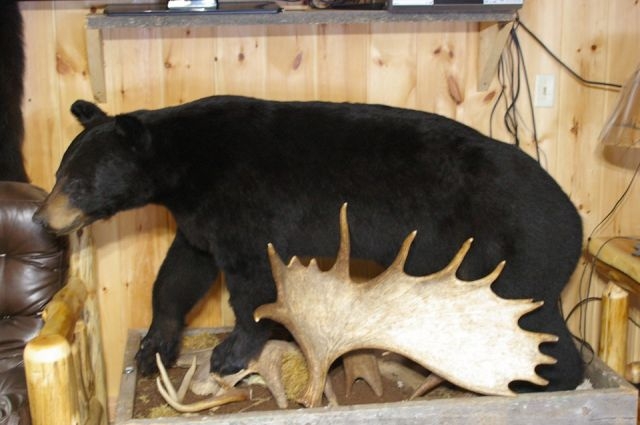 Maine Bear Hunting Facts
The Bear Facts: Bears see in color and have good vision close-up. Their hearing exceeds human frequency ranges and probably twice the sensitivity. Their smelling ability is extremely good. The limits are untested. Their nasal mucosa area is about 100 times larger than in humans and their sense of smell is 7 times that of a blood hound. Therefore, sit still and make sure you are scent free. No cover scents please - we take care of that.
BUT, remember. No matter how much effort and expertise we contribute to your hunt, the Black Bear is unlike any other game you have ever hunted. Unlike deer hunting, you will be hunting a predator who will be hunting your bait site. And when hit, the black bear will not lie down and bleed out like a deer. But rather, will hide so you will not find him until you can smell it. Or run until he dies - which could be 10 to 20 miles. Therefore patience and care should be given to a precision killing shot.